Writer
Philip K. Dick (short story)
Tom Berry (story)
Miguel Tejada-Flores (story, screenplay)
Exec. Producer
Josée Bernard (co-executive producer)
Tom Berry (executive producer)
Charles W. Fries (executive producer)
Antony I. Ginnane (executive producer)
Released on
February 17, 2009 (US)
April 20, 2009 (UK)
Screamers: The Hunting is a 2009 dystopian science fiction film based on Philip K. Dick's 1953 short story "Second Variety." Directed by Sheldon Wilson.
A group of humans arrive on Sirius 6-B to investigate an SOS signal sent out from the planet, which has been supposedly deserted since the destruction of the man-made weapons known as "screamers." Once the squad arrives, they find a group of human survivors eking out an existence in an old military outpost, but more important, they discover that the threat of the screamers has become even more insidious, now that they're able to morph into human form.[1]
Gina Holden -as- Lt. Victoria Bronte
Jana Pallaske -as- Schwartz
Lance Henriksen -as- Orsow
Greg Bryk -as- Cmdr. Andy Sexton
Christopher Redman -as- Rafe Danielli
Tim Rozon -as- Madden
Dave Lapommeray -as- Sgt. Romulo (as Dave La Pommeray)
Jody Richardson -as- Soderquist
Stephen Amell -as- Guy
Holly O'Brien -as- Hannah
Darryl Hopkins -as- Dwight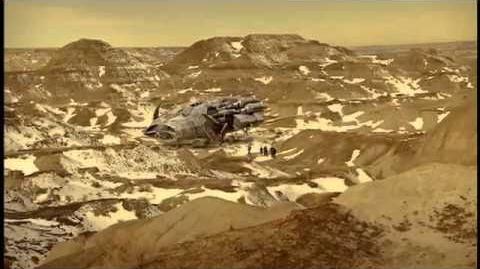 References
Edit
Ad blocker interference detected!
Wikia is a free-to-use site that makes money from advertising. We have a modified experience for viewers using ad blockers

Wikia is not accessible if you've made further modifications. Remove the custom ad blocker rule(s) and the page will load as expected.