A Spinner is a Flying Police Car and is a concept that Philip K. Dick worked on in his story Blade Runner and the Total Recall series.
In the year 2019 Californian Police Departments Used them such as The Los Angeles Police Department and Also Night City Police Department at some point after 2019, by the year 2077.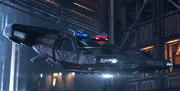 Ad blocker interference detected!
Wikia is a free-to-use site that makes money from advertising. We have a modified experience for viewers using ad blockers

Wikia is not accessible if you've made further modifications. Remove the custom ad blocker rule(s) and the page will load as expected.